Tugor
Orgasm Donor



Joined: 18 Oct 2003
Posts: 1483
Location: Yeah. . .right.
Posted: Fri Feb 04, 2005 9:38 pm

Post subject: Suggestion\Idea for the 'acid' family spells

---

I think it would be cool if the acid family spells had a 'burn' effect. After they connect with the target they continue to do damage for a pulse or two. Maybe only the stronger versions of the acid spells would have this effect.
_________________
It is better to be pissed off than pissed on.
Brokyn
LLAMA SECHS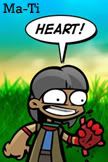 Joined: 19 Oct 2002
Posts: 3648
Location: Northern Georgia
Posted: Sat Feb 05, 2005 10:35 am

Post subject:

---

#2 suggestion: when armor damage is implemented, can we expect acid to do a bit of extra damage? Perhaps with the stronger versions?

Heck, this should be applied to character health as well. I mean, yeah, erosion resistance.

--William
_________________



Haelrahv Wiki!
++Brown Nosing Points